Foundation repair looks different for many property owners. For example, a residential homeowner may require other foundation repair methods in Champaign than what a commercial owner might need. It can be confusing to understand the various repair solutions that a contractor has to offer and which ones suit your needs the most. That's why we created this helpful guide about foundation repair methods in Champaign. You'll learn all about the various treatment plans for concrete slab and pier & beam foundations. Are you ready to get started? Let's go!
Steel Piers - A Robust Foundation Repair Method in Champaign, IL
One way to fix a flawed foundation is by installing steel piers as a means of stabilization for concrete slabs. If a foundation is uneven and sinking in spots, steel piers can help the problem as a form of house leveling.Are you noticing a slope or uneven angle to your foundation? Ask a licensed structural engineer what they suggest and see if steel piers will be beneficial.
Steel is incredibly durable and known to last upwards of 150 years! That's a couple of generations of people that can enjoy your home without further foundational problems.
Concrete & Helical Piers Work Well as Champaign Foundation Repair Methods
Concrete piers are placed very deep underground and are custom built according to the needs of your home's soil patterns. Much like steel piers, concrete gives your foundation a mass amount of stabilization and works well at correcting horizontal cracks.
Helical piers work in the same way as concrete and steel piers in terms of stabilization. These piers got their name due to their helix design and shape. We have found that helical pipers offer the same reinforcement as steel but theta are far more pricey. Opting for steel, in most cases works just as well, according to Angi.com.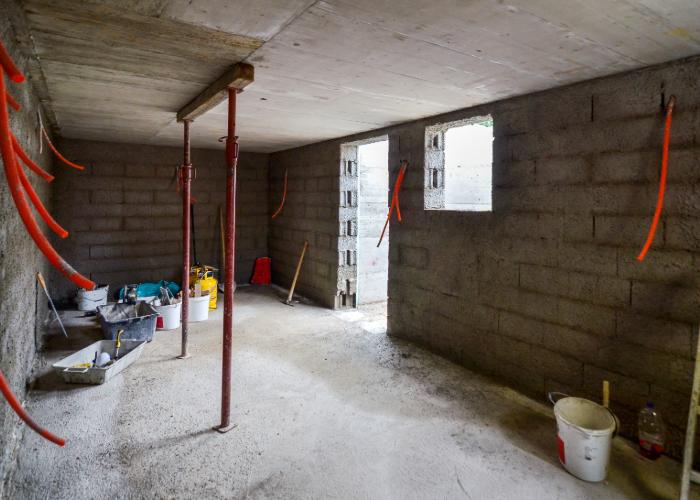 Foundation Repair Methods for Champaign Homes Include High-Density Polyurethane Foam
When dealing with concrete foundation cracks the quicker the repair the better. We utilize many repair methods in Champaign, IL, for fast crack treatments. In the cases where cracks are severe and require immediate intervention, we will often use polyurethane foam injection, which quickly fills the cracks by expanding. You may have seen this same type of fun on highways where roads needed to be lifted.
Polyurethane foam injection is a quick and affordable way to remedy foundation cracks that are on their way to causing other structural damages.
Straightforward Foundation Repair Methods - Masonry Patches & Sealants
Masonry patches and sealants are great for concrete slab foundations that have weak spots that require reinforcement. We tend to use vinyl concrete patch products because they are the strongest and last the longest. These incredible adhesive patches typically only take about 24-hours to dry and then you're good to go. Our Champaign Foundation Repair Experts are quick to use patches and sealants because of how robust they are. Vinyl resin and cement materials create an incredible seal and keep foundations intact.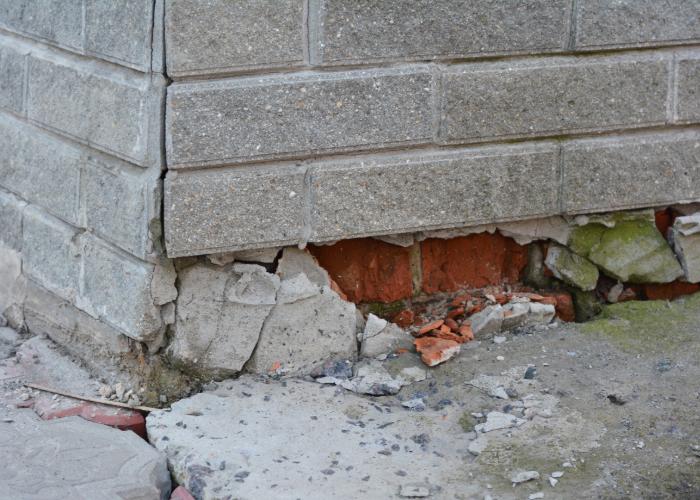 House Leveling is a Go-To Champaign Foundation Repair Method
When a customer notices that their house is looking a little off-balance they might be thinking that their eyes are playing tricks on them. On the contrary! If you notice your home shifting on one side, your windows and doors aren't working correctly, you have sloping floors, and bowing walls it is safe to assume that your home is in need of house leveling services. Curious about the average cost of house leveling? You can compare prices here.
House leveling, otherwise known as slab jacking, is a simple process that doesn't involve a lot of noise, mess, or displacing you from your home. You don't have to worry about mismatched concrete slabs because we are not replacing anything during the house leveling process. Our contractors will simply move your foundation back into its original position. You don't even have to leave your house!
Who is Champaign Foundation Repair Experts?
We're a high-quality company of licensed and insured contractors that take professional foundation repair very seriously. We want your home and commercial property to stand tall on solid ground. We offer a full panel of foundation repair services, replacement, installation, maintenance, and much more. Our structural engineers provide superior inspections that are 100% FREE of charge just like our rock-solid estimates. You can count on our team to meet all of your concrete slab and pier and beam foundation needs for the lowest prices in Illinois. If you're dealing with a foundation emergency please don't hesitate to call Champaign Foundation Repair Experts at (217) 216-1912 for prompt and affordable service.